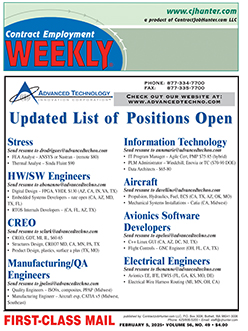 Read a sample issue of Contract Employment Weekly Magazine! (Requires Adobe Reader.)
A Subscription allows access to our full array of Services.
A Guest Membership is free of charge and gives access to the contact information in the job listings.
Free Email Boxes for Subscribers --If you are a ContractJobHunter or C.E. Weekly subscriber, you can have a free email box at our website.

The only restrictions to use this service are:
Any single document (either sent or received) cannot exceed 500K
The total amount of space allowed to any subscriber is 5 megabytes
Your subscription must stay current.